Nuić Vineyards has been participating in prestigious wine competitions for many years, such as AWC VIENNA – an international wine competition held in Vienna according to the highest standards of evaluation, strictly defined rules of tasting and testing by international oenologists, wine experts, sommelier, gastronomy and wine publicists. about 10,000 wines from 1,700 producers from over 40 countries were tested.
Mundus Vini is a significant competition for all wineries with the ambition to break into, especially the wine and gastronomic markets of Germany and Austria. This competition has been held since 2001, and every year about 6,000 – 10,000 wines from all over the world take part in it. A highly qualified international jury is composed of oenologists, winemakers, professional wine merchants, sommelier, wine journalists, wine experts and restaurateurs.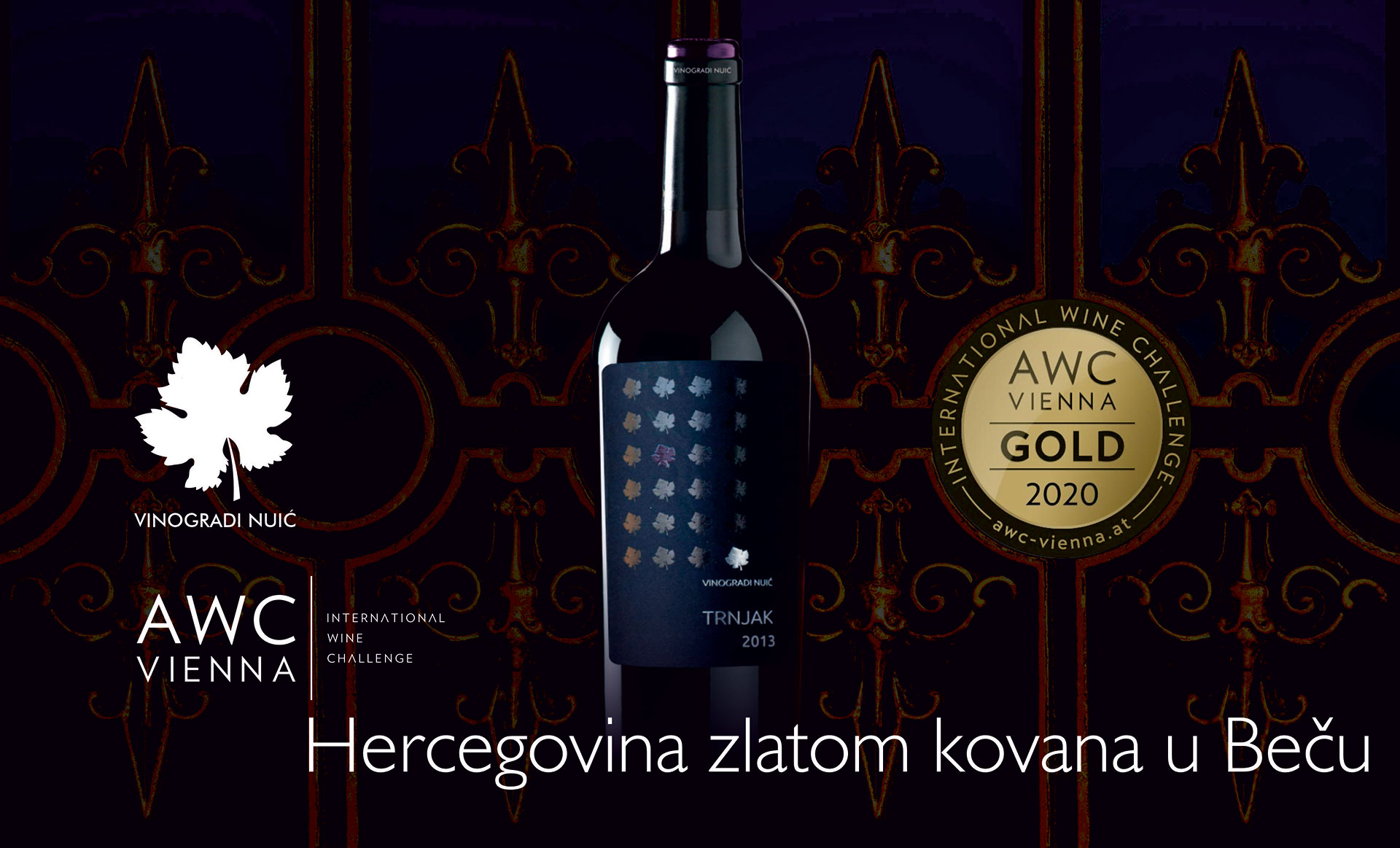 AWC VIENNA

At the prestigious wine competition AWC VIENNA - International wine challenge Vinogradi Nuić we single out especially Trnjak 2016 - gold.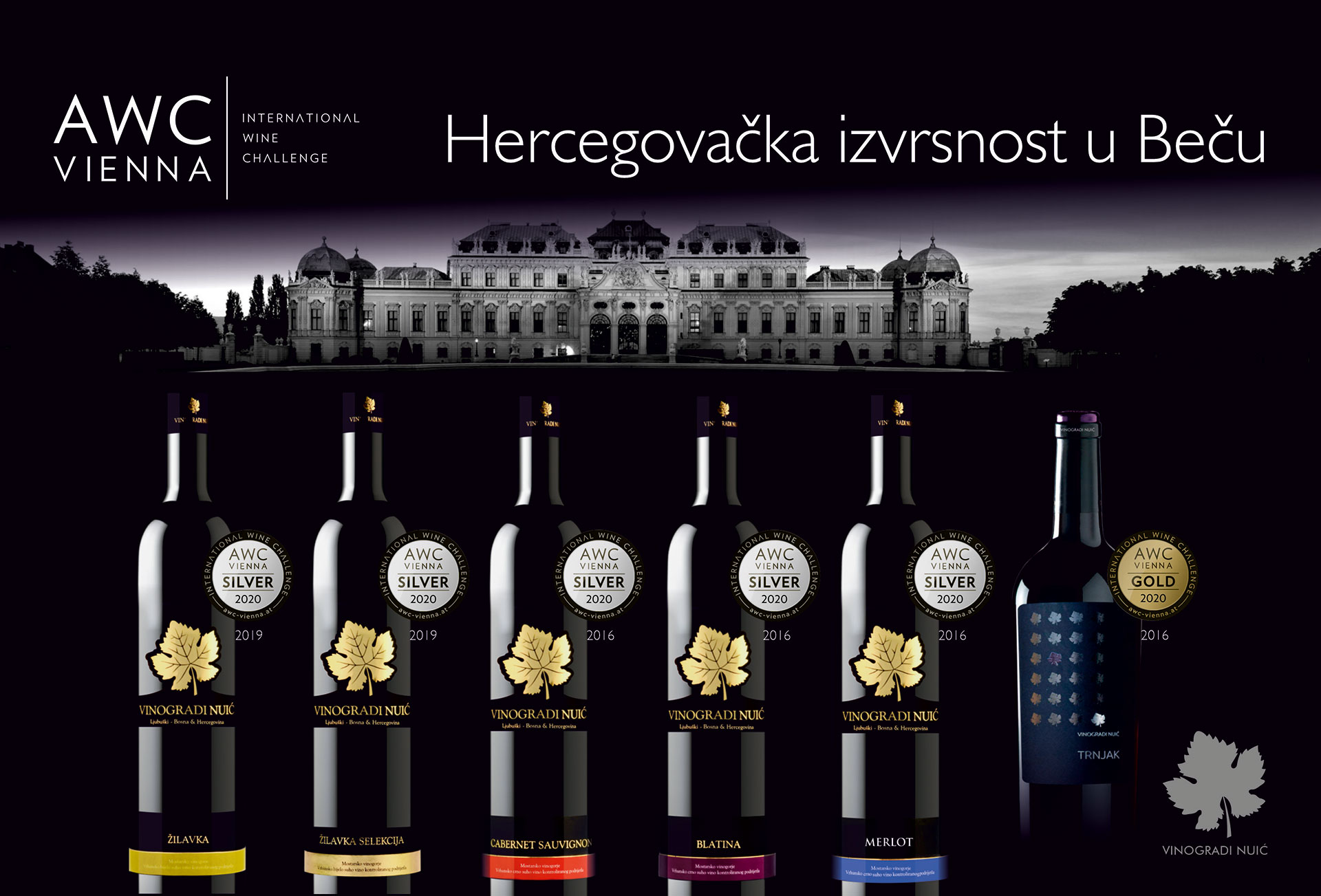 AWC VIENNA

At the prestigious wine competition AWC VIENNA - International wine challenge Vinogradi Nuić achieved the following results: Cabernet sauvignon 2016 - silver Merlot top 2016 - silver Blatina top 2016 - silver Trnjak 2016- gold and 3rd place in the category Žilavka top 2019 - silver Žilavka selection 2019 - silver
MUNDUS VINI

Merlot premium 2015.- zlato, Trnjak 2016.- zlato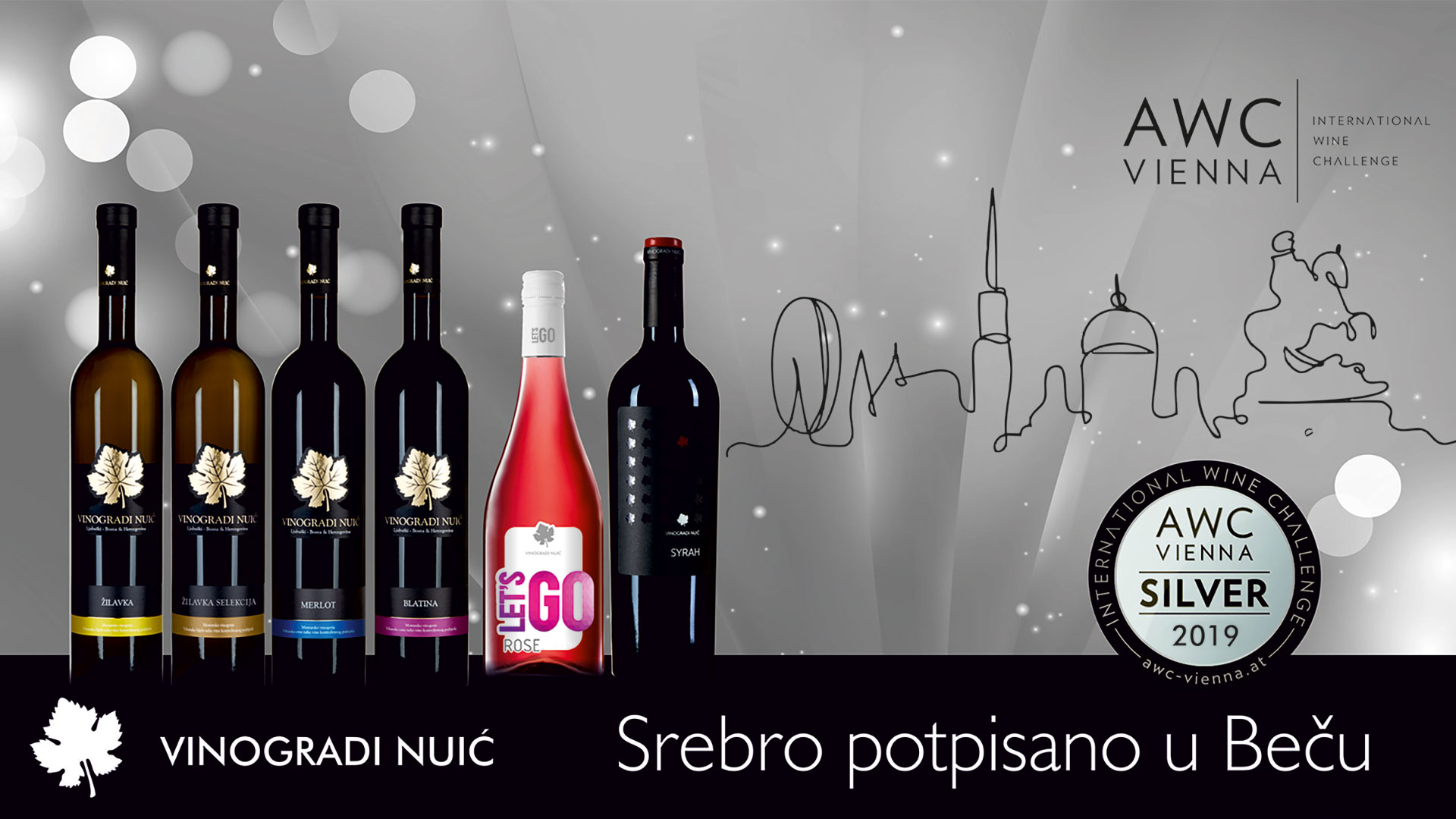 AWC VIENNA

At the prestigious wine competition AWC VIENNA - International wine challenge Vinogradi Nuić achieved the following results: Merlot premium 2015- gold, Blatina barrique 2016- gold, Merlot top 2015- silver, Cabernet sauvignon 2015- gold, Syrah 2016 - silver, Rose let 's go 2018- silver, Žilavka selection 2018- silver , Žilavka top 2018 - silver, Blatina top 2016 - silver
DECANTER

Trnjak 2015.- silver, Blatina barrique 2016.- bronze, Merlot 2013.- bronze
MUNDUS VINI

Trnjak 2015.- gold, Blatina barrique 2016.- gold, Blatina vrhunsko 2016.- silver
IWSC

Trnjak 2015.- bronze, Blatina barrique 2016.- bronze
AWC VIENNA

At the prestigious wine competition AWC VIENNA - International wine challenge Vinogradi Nuić achieved the following results: Best manufacturer from the state Merlot 2013 - Gold Trnjak 2015 - gold Blatina barrique 2015 - gold Syrah 2015 - silver Blatina top 2015 - silver Merlot 2013.- silver Alter ego 2014.- silver Cabernet sauvignon 2013 - silver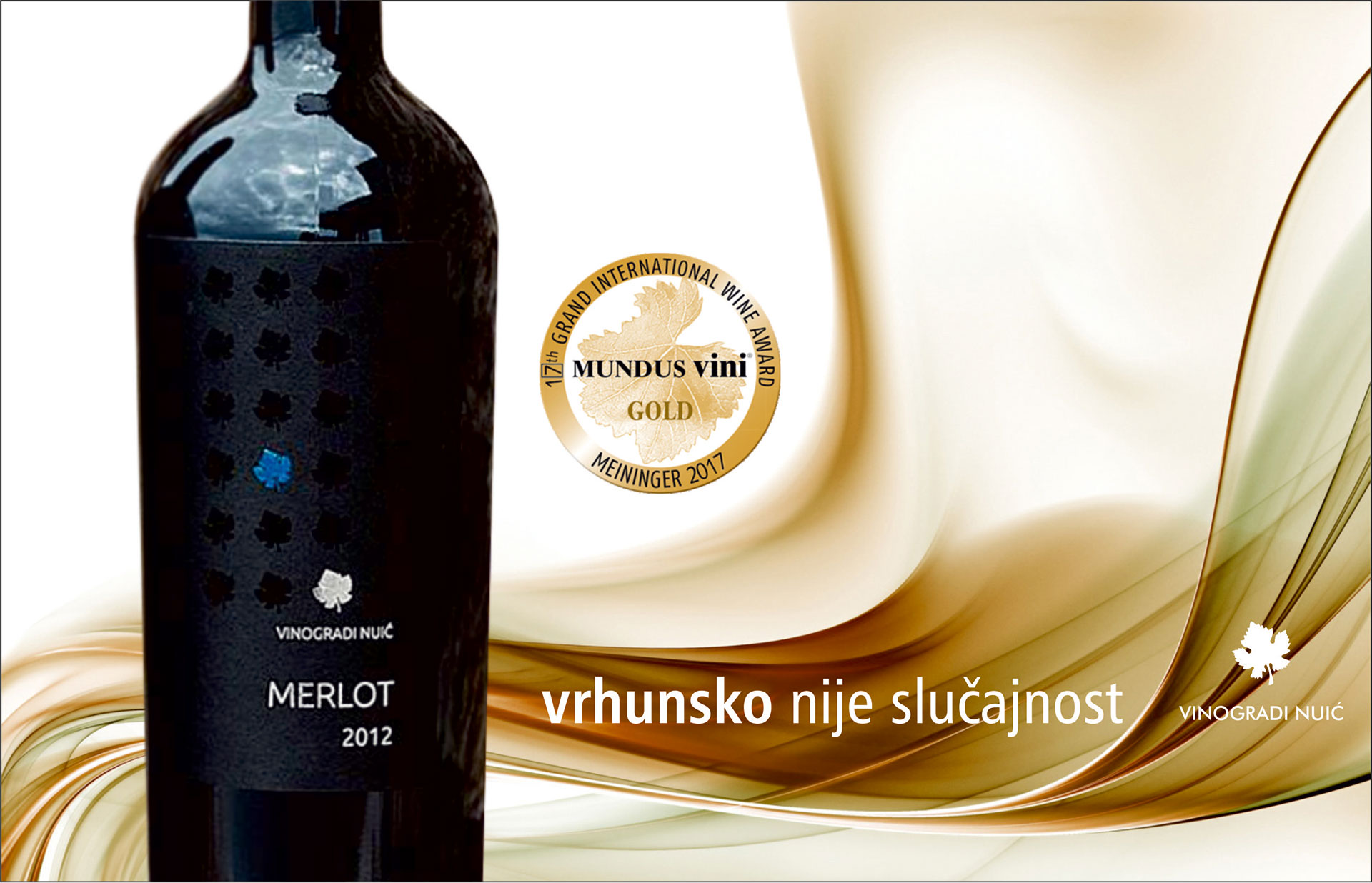 MUNDUS VINI

At the prestigious wine competition Mundus Vini Vinogradi Nuić
achieved a special result in the category of the best producer from the country: Merlot 2013 GOLD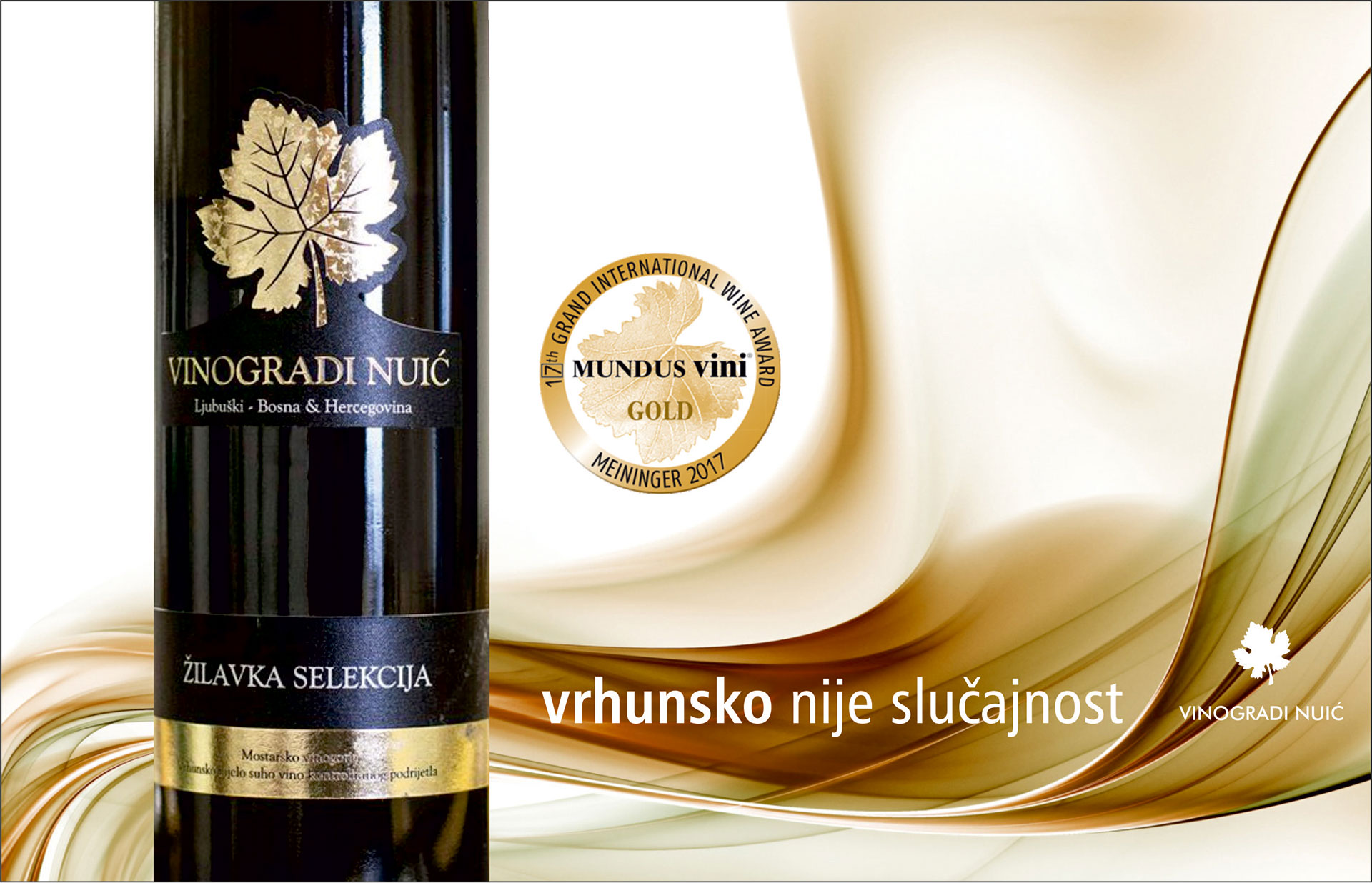 MUNDUS VINI

At the prestigious wine competition Mundus Vini Vinogradi Nuić achieved a special result in the category of the best producer from the country: Žilavka Selection GOLD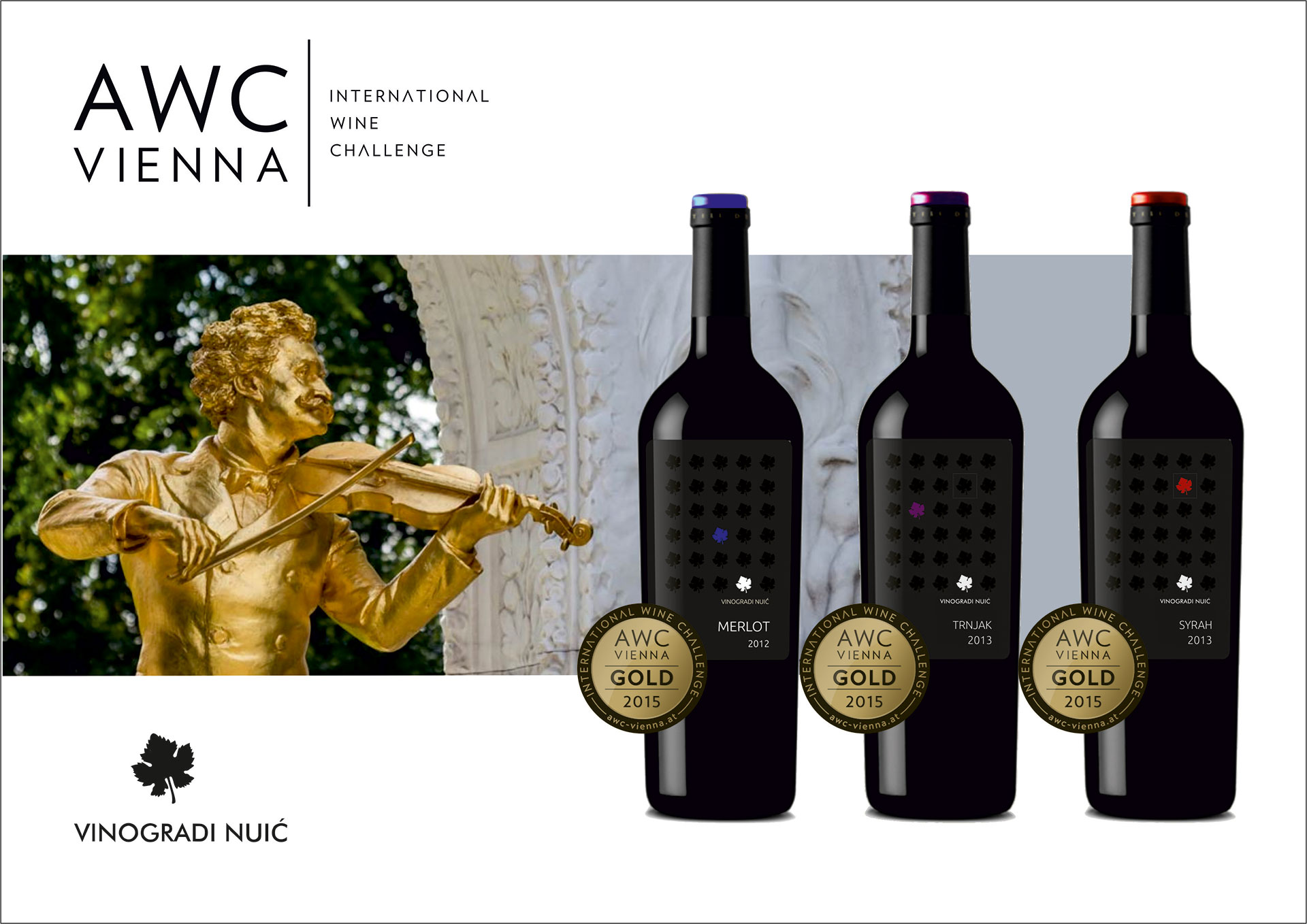 AWC VIENNA

At the prestigious wine competition AWC VIENNA - International wine challenge Vinogradi Nuić achieved the following results: Trnjak 2013 - gold, Syrah 2013 - gold, Merlot 2013 - silver, Merlot 2012 - gold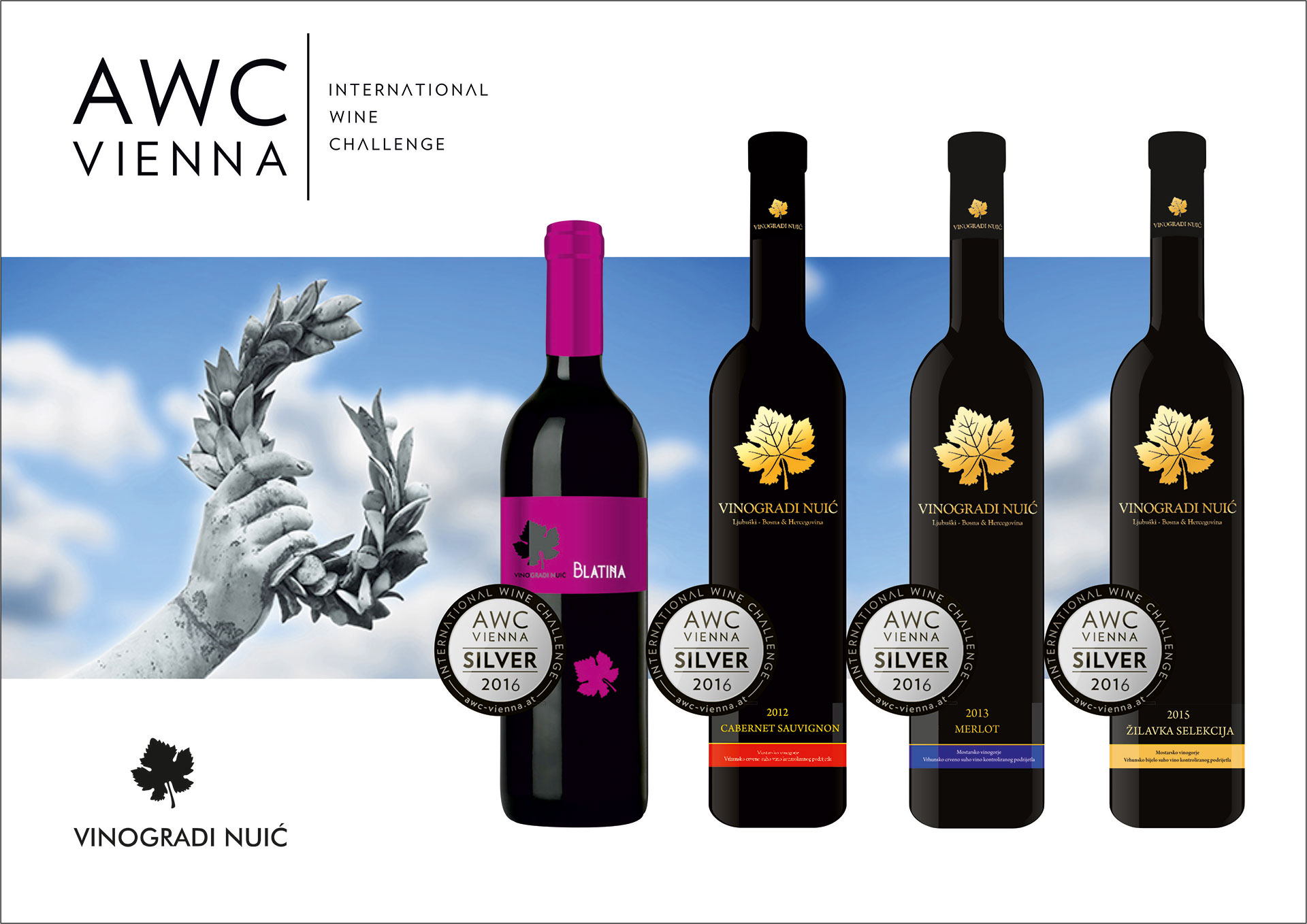 AWC VIENNA

At the prestigious wine competition AWC VIENNA - International wine challenge Vinogradi Nuić achieved the following results: Cabernet sauvignon 2012 - silver, Žilavka selection 2015 - silver Blatina quality 2013 - silver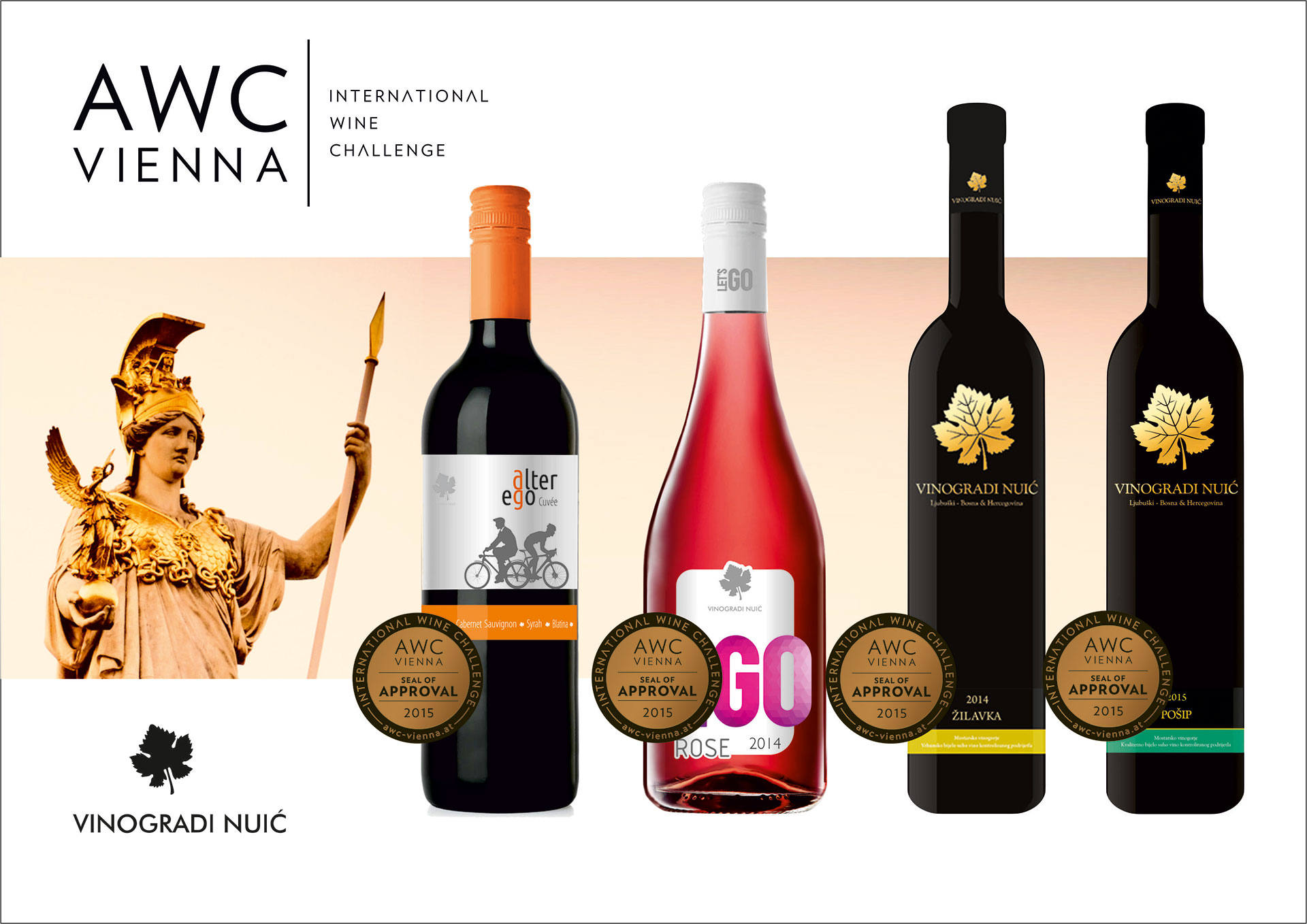 AWC VIENNA

At the prestigious wine competition AWC VIENNA - International wine challenge Vinogradi Nuić achieved the following results: Alter Ego - bronze, Let's Go - bronze, Žilavka quality - bronze, Pošip - bronze
DECANTER

MERLOT 2012. - BRONZE CABERNET SAUVIGNON 2012.- BRONZE
PRAGUE WINE TROPHY

SHIRAZ 2013. - CHAMPION
CHALLENGE DU VIN INTERNATIONAL

BLATINA BARRIQUE 2013. – BRONZE
MUNDUS VINI
TRNJAK 2013. – GOLD i SYRAH 2013. – GOLD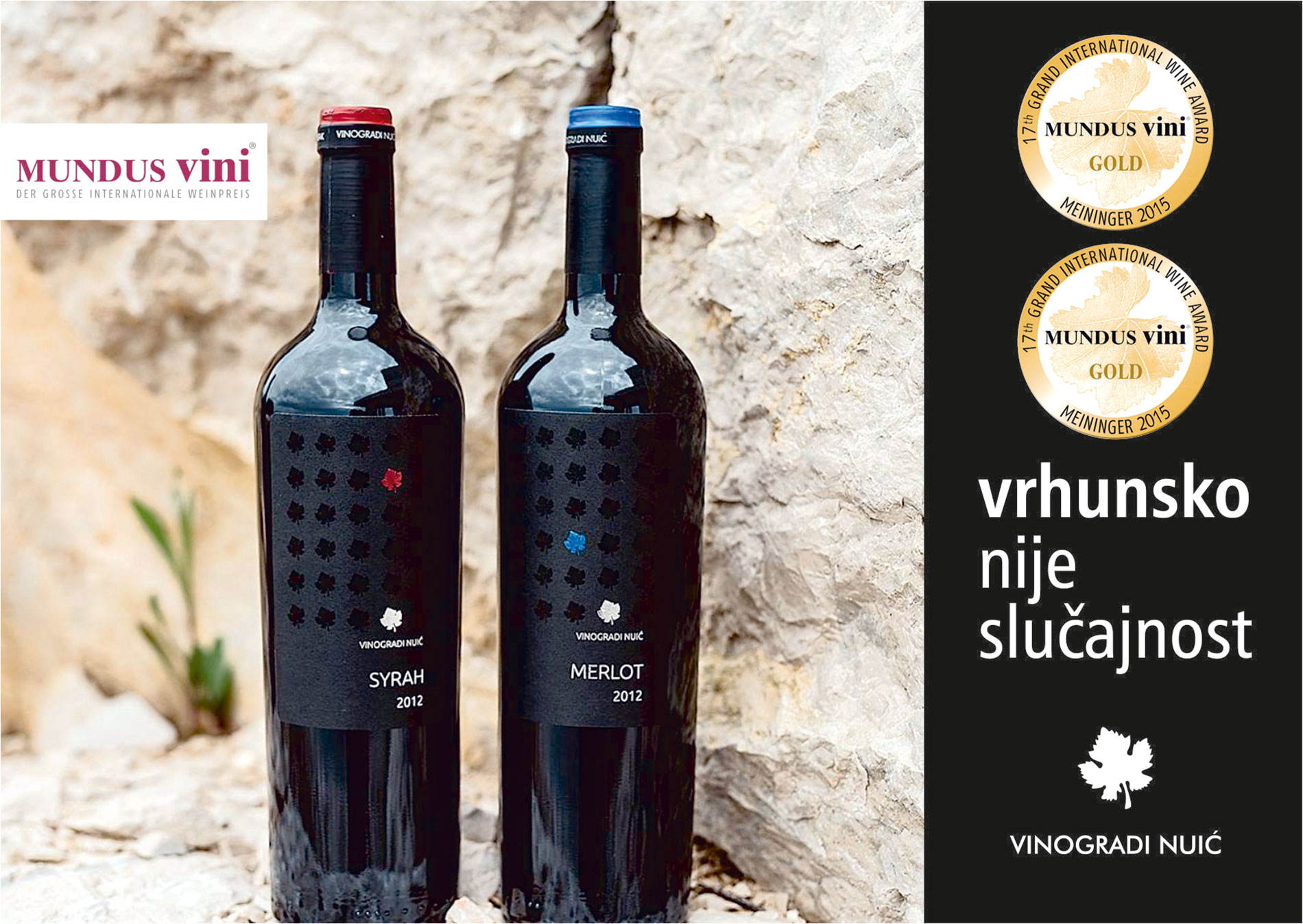 MUNDUS VINI

At the prestigious Mundus Vini wine competition - Nuić Vineyards won 2 gold medals for Merlot 2012 wines - gold and Syrah 2012 - gold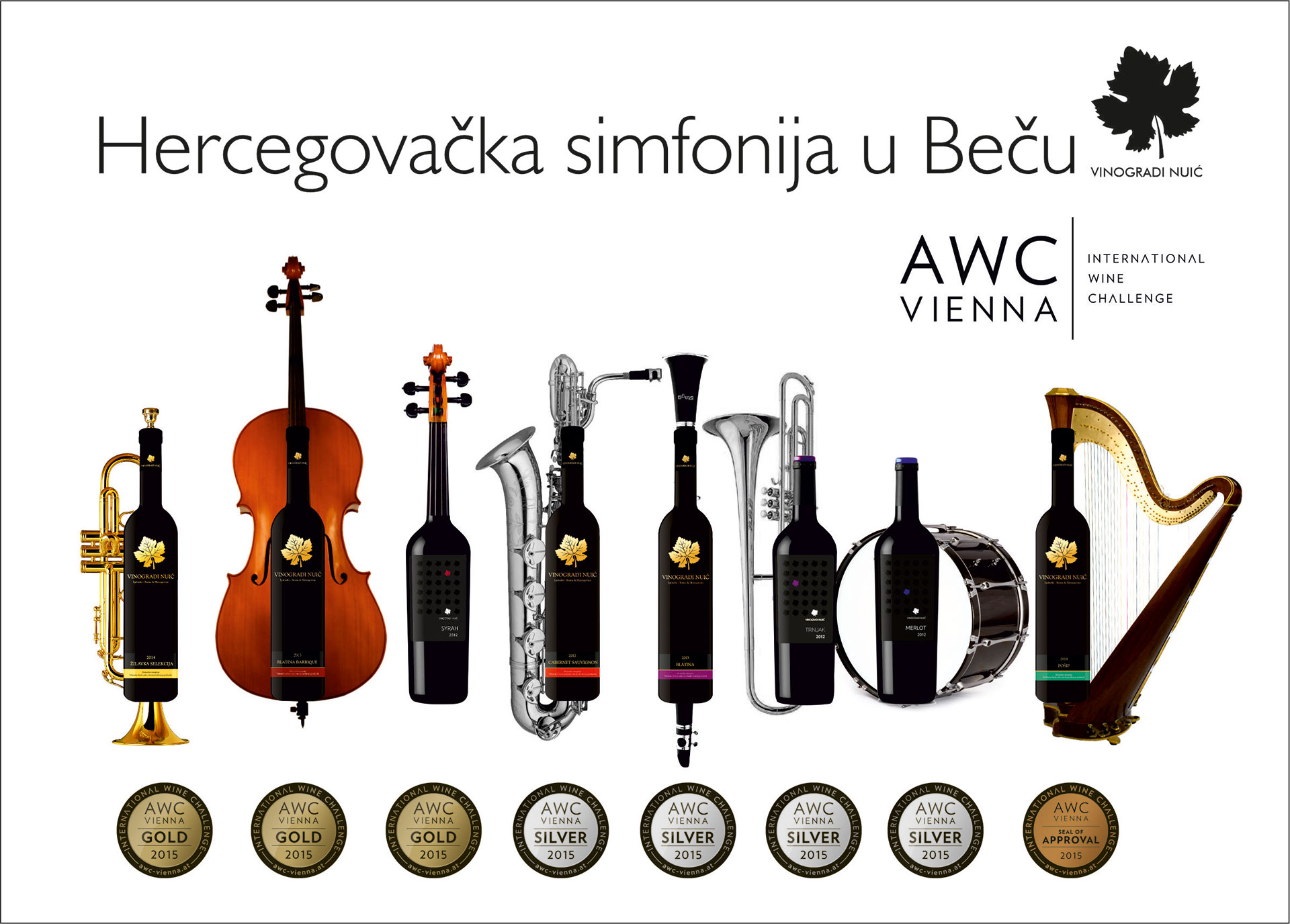 AWC VIENNA

At the prestigious wine competition AWC VIENNA - International wine challenge Vinogradi Nuić
achieved the following results:
Syrah 2012 - gold, Cabernet sauvignon 2012 - silver, Blatina top 2013 - silver, Trnjak 2012 - silver, Žilavka selection 2014 - silver, Merlot 2012 - silver, Blatina barrique 2013 - gold
PRAGUE WINE TROPHY

Blatina barrique 2013. – regional champion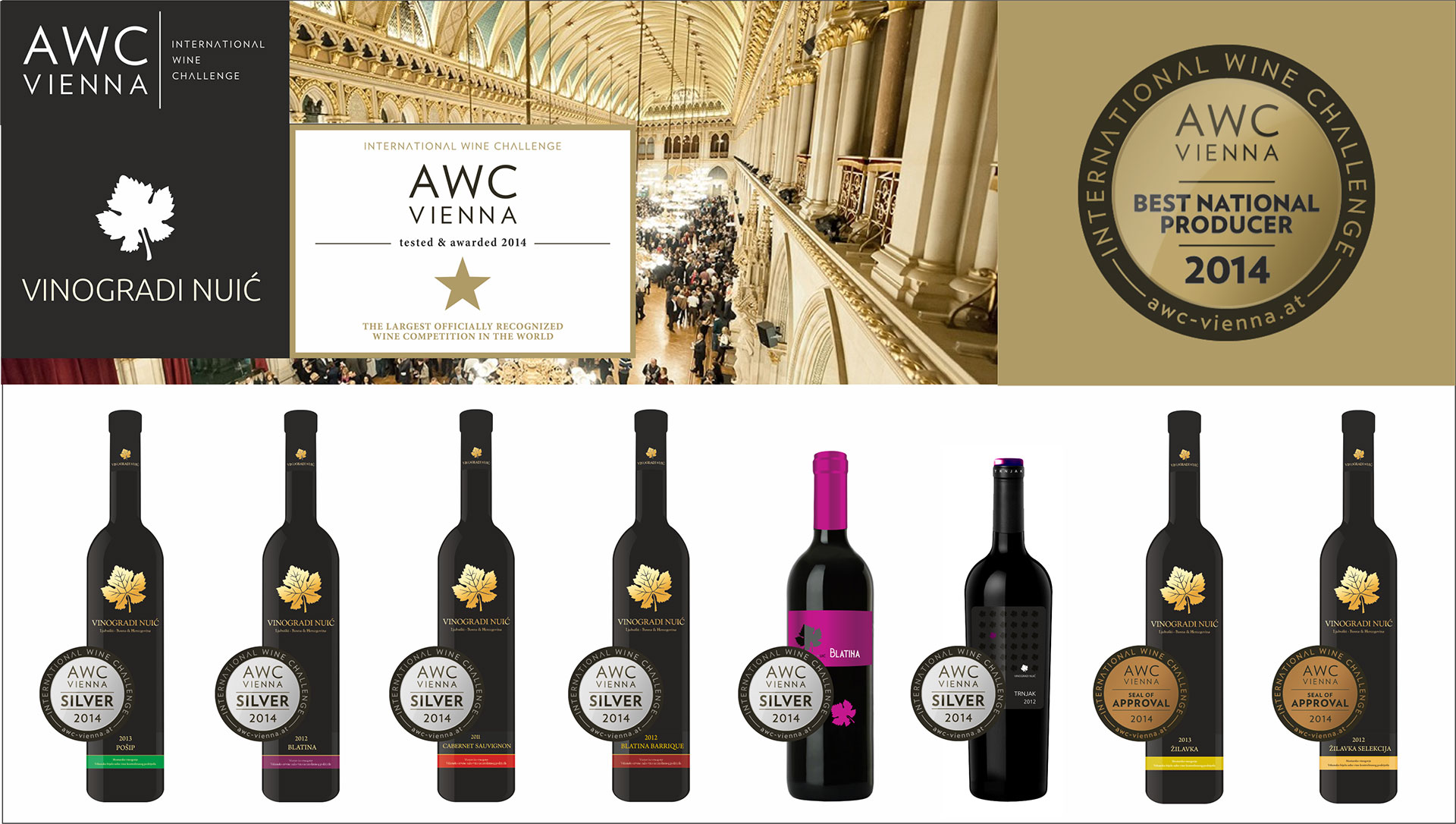 AWC VIENNA

At the prestigious wine competition AWC VIENNA - International wine challenge Vinogradi Nuić they achieved the following results. In the category - the best manufacturer from the country: - Cabernet sauvignon 2011 - silver - Pošip 2013 - silver - Blatina quality 2012 - silver - Blatina top 2012 - silver - Trnjak 2012 - silver - Blatina barrique 2012 - silver - Žilavka selection 2012 - bronze